The Producer - You Don't Have to Ride Jim Crow!
Executive Producer Robin Washington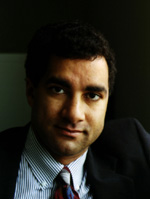 Executive Producer Robin Washington
Growing up in a family of black and Jewish civil rights activists,
Robin Washington
participated in sit-ins and marches when he was three years old - events he fondly recalls today as "family outings."
Washington received a New England Emmy for his first documentary, Vermont: The Whitest State in the Union He has also produced news and public affairs for Black Entertainment Television and Boston's ABC and NBC affiliates, as well as the National Public Radio programs Crossroads and National Native News.
The editor of Minnesota's Duluth News Tribune, Washington was previously a columnist for the Boston Herald, managing editor of Boston's black-oriented Bay State Banner, editor and publisher of a rural Minnesota weekly newspaper and an engineering magazine. He has made frequent appearances on NPR, MSNBC, Fox News, CNN and ABC News.
Narrator - Judge A. Leon Higginbotham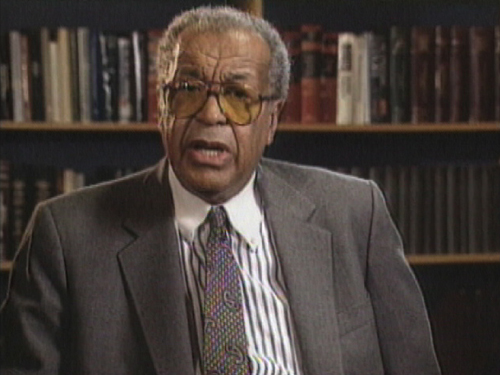 Narrator, Judge A. Leon Higginbotham (click to enlarge)
A. Leon Higginbotham Jr. served as chief judge of the U.S. Court of Appeals for the Third Circuit for 16 years. After retiring from the bench in 1993, he became public service professor of jurisprudence at Harvard University's Kennedy School of Government and a lecturer at Harvard Law School.
In his courtroom, his classroom, and in numerous books, articles and public talks, Higginbotham was an uncompromising defender of civil rights. Born in 1928, in Trenton, N.J., Higginbotham studied engineering at Purdue University before switching to liberal arts at Antioch College, where he received his B.A. in 1949, followed by an LL.B. at Yale Law School in 1952. Four years later, he became special deputy attorney general for Pennsylvania and in 1964, he became judge of the U.S. District Court for the Eastern District of Pennsylvania. In 1977, President Jimmy Carter appointed him to the U.S. Court of Appeals. The recipient of more than 60 honorary degrees, Higginbotham was awarded the Presidential Medal of Freedom by president Bill Clinton in 1995. His funeral three years later drew civil rights figures from across the country to Boston, including Rosa Parks.