The Documentary
The Film Project: A Journey Reunion Trip
In a race against time, journalist Robin Washington sought to document this historic ride.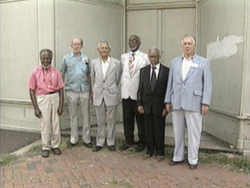 Riders re-visit a site in 1993. (click to enlarge)
Seven of the original riders joined for a series of reunions in the production of the documentary. The program captures them as they retrace their steps to stand at the exact sites of events nearly 50 years before. At a former bus station in North Carolina, the riders recall a mob's attack on them and the backroads on which they were spirited away. They visit the chain gang site and jails where they served time for the crime of sitting together on a bus. They also meet, for the first time, Mrs. Irene Morgan Kirkaldy, whose courage was the impetus for their Journey.
Additionally, the program looks at the contributions of the participants beyond the Journey, including the March on Washington and scores of nonviolent actions that have changed the racial landscape of America.